I've been ordering local organic food boxes for well over a year now, and all in all they've been good fun and great value. One amazing realisation is that there is more to vegetables than peas, carrots, and potatoes. The day a Romanesco cabbage the size of my head arrived I was in awe of the fractalness of nature. Artichokes are ok but a pain in the arse to cook. Purple sprouting rules.
But there is one vegetable that fills me with a sinking feeling everytime I see it. I thought I'd got away from it after switching to a different provider. No. It's got to the time of year that BEETROOT are coming into season. In my latest food box I found not one, or two, but an entire bag of small beets.
What the hell do you DO with beetroot? Most people in the uk only seem to encounter beetroot in it's pickled jar format. I really don't like that. And I want to make some kind of a MEAL out of the stuff.
Not one to give up easily, over the last year I've tried a whole host of recipes. Beetroot risotto. Beetroot and cheese sauce pasta. Just roasting the bastard. I feel like a 17th century alchemist looking for some mystical formula to turn a root vegetable into the meal equivalent of philospher's gold.
And I think, on saturday, I found it!
Spicy beetroot and coconut soup – BBC recipes

Bowl of soup…mmm…you've got to like something that colour


The photo doesn't do it justice, the stuff looked like enamel paint or liquid lipstick
The kitchen did start looking like it belonged some deranged homicidal maniac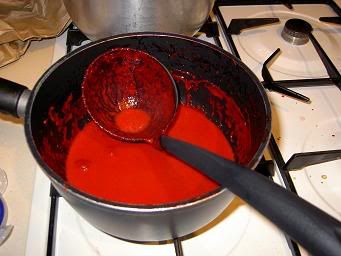 And here's the best bit


Packaged up and ready to inflict on others! One of these went to Mike's mum, and the other is going to Megadog this weekend. Mostly because after adding 3 red chillis and a load of garlic he is probably one of the few people I know that might be able to eat it 🙂 Yes – it's really nice but I recommend using less spice next time!